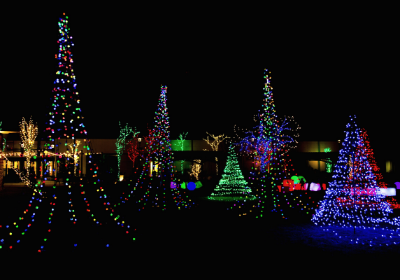 There's nothing like a beautiful light display to get you into the spirit of the season! Here is a list of events and spots to add to your calendar.
Downtown East – Kansas City
Admission: FREE
Drive or walk by the magnificent tree lit all season in Kansas City's historic 18th & Vine District.
7900 Outlook Lane, Prairie Village, KS
Nov. 28, 2020 – Jan. 1, 2021
Admission: FREE
For a quick light display excursion, head to Candy Cane Lane. Each year since 1958, the people who live on this street turn their cul-de-sac into a magical Christmas wonderland.
3510 S. Crysler, Independence, MO
Nov. 22-Dec. 31, 2020
Admission: FREE
Turn your radio to 100.3 FM to hear synchronized music for this holiday light show. If you look carefully, you might even spot the Grinch!
Longview Lake
Nov. 23 – Dec. 31, 2020
Admission: FREE. Donations accepted.
In its 33rd year, Christmas in the Park features more than 500,000 lights and 175 animated figures in a drive-thru wonderland. This year, they've added a 25 foot Santa at the BBQ grill and an expanded tunnel entrance, programmed with dazzling colors and effects.
131st & Antioch Road, Overland Park, KS
Nov. 26, 2020 – Jan. 1, 2021
Admission: FREE
This double cul-de-sac of 23 homes that turns into a gorgeous, wintry display, has been "voted the number one Christmas neighborhood in Johnson County for 16 straight years," according to its website.
Festival of Lights: Enchantment
Powell Gardens
Nov. 13, 2020 – Jan. 3, 2021
Admission: $5-$12; FREE for members
More than 20 miles of holiday lights highlight Powell Gardens' trees and pathways, transporting visitors to an enchanted land. Keep an eye out for the brand-new Enchanted Tiki Bar and Santa's Workshop!
Hall of Waters' Water Bar – downtown Excelsior Springs
Nov. 22 – Dec. 31, 2020
Admission: FREE
Local businesses, civic groups and friends decorate this beautiful display of more than 30 trees. Bring your change and vote for your favorite!
Overland Park Arboretum and Botanical Gardens
Nov. 27-28, Dec. 4-5, Dec. 11-12, 2020
Admission: $14 (tickets must be purchased in advance); 5 and under FREE
Take a stroll through the magically lit pathways at the Overland Park Arboretum. Enjoy musical performances in four different locations and a horse-drawn wagon ride through the forest.
Holiday Reflections Walk Thru Village
Union Station
Nov. 21, 2020 – Jan. 3, 2021
Admission: $5 (Children 2 and under are free)
Lights reach for the sky and decorated trees surround you in Union Station's stunning Grand Plaza. Keep an eye out for eight photo stations.
Legends Outlets
Nov. 20 – Dec. 31, 2020
Admission: FREE
The crown jewel of this beautifully lit shopping center is a 45-foot tree decorated with festive LED-lighted snowflakes and a giant snowfall topper.
Crown Center Square
Downtown Kansas City
Nov. 27, 2020 – Jan. 3, 2021
Admission: FREE
Fully illuminated and standing at an impressive 100 feet, the Mayor's Christmas Tree is one of the tallest in the nation.
16617 Indian Creek Parkway, Olathe, KS
Nov. 27 – Dec. 23, 2020
Admission: FREE. Donations accepted for the Leukemia Lymphoma Society.
Paul Craig's Christmas display has grown to nearly 150 lighted figures in his yard. This walk-through, penguin-themed extravaganza raises money for the Leukemia and Lymphoma Society.
Country Club Plaza
Nov. 26, 2020 – Jan. 10, 2021
Admission: FREE
The quintessential Kansas City light display, the Plaza Lights have been a cherished tradition for more than 90 years.
Sar-Ko-Par Trails Park
Dec. 4, 2020 – Jan. 10, 2021
Admission: FREE
Get into the spirit of the holiday season by taking a stroll around Rose's Pond and gazing at the lovely, illuminated trees.
Swope Park
Nov. 1, 2020 – Jan. 2, 2021
Admission: $20 per carload; $30-$40 for commercial vans or buses
Adorned with stunning holiday light displays, this approximately one mile long drive will weave you through nine themed areas including the 12 Days of Christmas, a toy workshop, a stained-glass nativity and more.
Zona Rosa Town Center
Nov. 21, 2020 – Jan. 3, 2021
Admission: FREE
Take a walk through this festive atmosphere at Zona Rosa, complete with a 50-foot tree, suspended crowns and selfie photo stations.