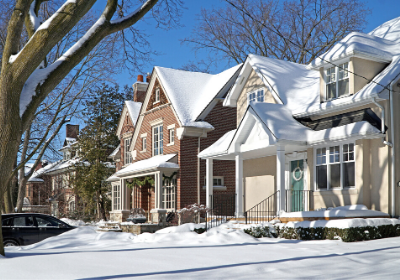 Before the snow falls and a chill takes hold, it's important to winterize your home. If you procrastinate, it could come at a cost! Here are some tips that'll help make your home more enjoyable when the temperature drops.
CHECK YOUR HEATING SYSTEM
Turn the thermostat up to 80 degrees, just to test it. Listen for the furnace to turn on and make sure warm air comes out. If the furnace is not running properly, you may be able to fix it yourself, or you may need to call a technician.
INSULATE YOUR WINDOWS
By reducing drafts, you can lower your home's energy costs by up to 20% per year! Use anything from V-seal weather stripping and rope caulk to shrink film or even nail polish.
PREP THE PLUMBING
Drain the water from your outdoor faucets and garden hoses and roll up the hoses and store them inside. Check for any "problem" pipes that tend to freeze in the winter and consider using heat tape to keep them warm.
CHECK THE ROOF
Spot any potential issues before the first snow! Check for cracked caulk or rust spots, shingles that are missing, broken, or curling, cracked vent pipes, or large masses of moss and lichen, which could indicate your roof is decaying.
CLEAR GUTTERS AND DOWNSPOUTS
To prevent ice dams or damage to your foundation, clean your gutters to remove leaves and twigs. Also, make sure the gutters aren't sagging and trapping water.