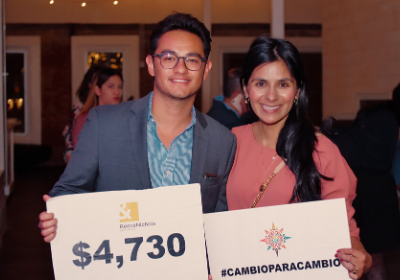 ReeceNichols' participation in the Hispanic Development Fund's Cambio para Cambio campaign in September 2019, has helped award scholarships to four students in the Kansas City area.
Last week, the Hispanic Development Fund (HDF) announced the scholarship class of 2020, consisting of 325 students and a record in scholarship dollars awarded. Of this year's recipients, 78% are first-generation college students.
HDF works to improve the quality of life of Latino families, through scholarship support. Since 1984, HDF's Scholarship Program has helped over 4,700 Latino students go to college and accomplish their goals.
Four area students were awarded ,750 in HDF Scholarships directly because of ReeceNichols' contributions. Since three out of the four are attending HDF college match partner institutions, our impact came to ,500 in total scholarship dollars.
We're proud to support the HDF and its mission to build stronger communities through grantmaking and scholarship support. Congratulations to the 2020 HDF – ReeceNichols Scholars!
Scholarship Recipients
Valery Acopa attended FL Schlagle High School and is currently a Sophomore at Donnelly College majoring in Education.
Jessica Franco attended Ruskin High School and is currently a Sophomore at the University of Central Missouri majoring in Business Administration.
Stephanie Madrigal attended Mill Valley High School and is currently a Freshman at Newman University majoring in Nursing.
Natalie Moyer attended Blue Springs High School and is currently a Junior at Kansas State University majoring in Marketing.