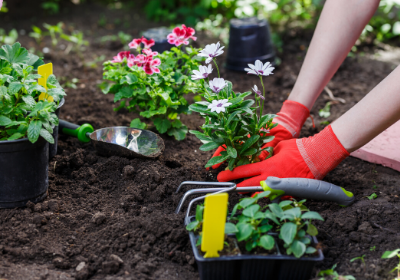 Curb appeal.
Two words that hold a whole lot of power.
It's easy to envision a home with updated paint colors and furniture when touring the inside, but the thought of tackling outdoor projects can set the tone for a potential buyer.
Here are 5 simple, inexpensive ways you can boost your curb appeal!
Garden Power
Plants add the perfect pop of color and can go a long way in making your home look more inviting. Plants of the perennial variety make up the backbone of a garden. They also return season after season, making them a great investment.
Power Wash
You may be surprised by the amount of environmental buildup on your home, porch, and walkways. Rent a power washer and watch your home transform before your eyes!
Dress Up Your Front Door
Consider painting it a different color or adding some festive, seasonal decorations.
Upgrade Light Fixtures & Hardware
It's a subtle switch but upgrading your exterior light fixtures and hardware will have a massive impact on the overall look of your home.
Cut the Clutter
Much like the rest of your home, you want to cut the clutter to highlight its beautiful architectural features.
With these simple steps, you can improve your home's curb appeal and value.